Can you dance? – EU Dance Workshop January 2016.
Our dance workshop features some world class dancers. Come and learn from the best.
Numbers are strictly limited – so book now to reserve your spot!
Friday, January 15th 2016, Saturday, January 16th 2016  (See Class Schedule below)
The workshop is open to any dancer 10 years and up with dance experience.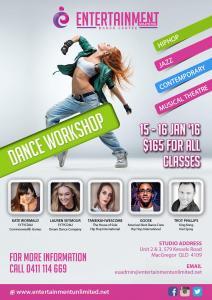 Intermediate

10 to 13 years

Time
Class
10:00-11:00
MT
11:00-12:00
HipHop
12:00-12:30
Lunch
12:30-1:30
Contemporary
1:30-2:30
Jazz
Seniors

14 years to open

Time

Class

10:00-11:00
Hip Hop
11:00-12:00
MT
12:00-12:30
Lunch
12:30-1:30
Jazz
1:30-3:00
Contemporary
EU Dance Workshop 2016
Kate Wormald, Lauren Seymour, Taneikah Wescome, Goose, Troy Phillips will be show casing their talent and teaching you how to be a more amazing dancer.  Hiphop, Jazz & Contemporary styles will be covered.  This is a unique opportunity for you to join these world class performers, including two from So You Think You Can Dance Australia (SYTYCDAU) and learn from the best.
The one price covers all classes on 15th and 16th January 2016.
The EU Dance Workshop January 2016 covers Hiphop, Jazz, Contemporary styles of dance.